Description
G6 Schwarze Road Sweeper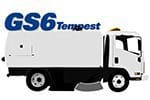 The Schwarze GS6 Tempest is the biggest seller in the Schwarze range, the GS6 road sweeper is built with a generous 6 cubic metre stainless steel hopper and a well-known Cummins auxiliary engine is sweeping from Tasmania to Darwin, from Perth to Sydney and most places in between.
A proven performer, the GS6 excels in all applications from leaf collection to sand, from street festivals to airports. The GS6 road sweeper comes with many inclusions and has been designed with operator comfort and safety in mind.
The sweeper incorporates a low pressure, low volume water spray system with water held in a removable UV resistant polyprothlene tank. Water spray is controlled to the gutter brooms, pavement surface and to the collection head and intake tubes by electric controls in the cab.
The model GS6 has several industry-leading features that position it at the head of its class. These includes the Schwarze WhisperWheel fan system, which lets Schwarze air sweepers run over 70% quieter and with up to 20% less fuel consumption.

6.0 Cubic Metre Hopper
Increased hopper capacity equates to increased production and less dumps
Steering
Mirror Image Dual Steer and Dual Sweep
Performance
Will clean towns with up to 50,000 people with one sweep
Cleaner Environment
Environmentally friendly regenerative air type
Lights
LED Work lights
Amber Rotating Beacons
Engine Safety
Reduces the risk of engine failure due to overheating or low oil pressure.
Sweeping Engine
96kw Isuzu auxiliary engine
Sweeping width
Full width sweep head and Side Brooms
Standard equipment
Grease Gun (Small)
Cleaning
Hopper Screen and Floor Vibration
Battery Safety
Battery Isolation Switches to both engines
Security
Central Locking
Noise Reduction
Noise Reducing Shroud
Tool boxes
Lockable Tool Boxes
Mirrors
Electrically Adjustable Heated Mirrors
Safety
Fire Extinguisher in Cab
Safety Props Standard
Operator Comfort
ISRI Seats to both sides
Integrated Air Conditioning
Cab Chassis
Choice of Cab Chassis
Whisper Wheel? Fan System
70% quieter, uses 20% less fuel, and 7% more powerful than an open face fan design
Gutter Broom Extension Override? (GEO?)
Increased usability of gutter brooms while eliminating the need for a centre broom
Fewer Moving Parts
Reduced Cost of Operation
1.5 Grams Balanced Fan Both Sides
Reduced vibration, and increased power range of the equipment